Sports and games volunteers for refugee children in The Netherlands
To increase our efforts, we are looking for enthusiastic team players to facilitate sports, recreational and play activities for refugee children for four hours a week. You will be trained and coached by experienced TeamUp instructors and begin work at a location near to you.
As a TeamUp volunteer you will contribute to the social and emotional development of the participating children - and thereby help reduce the risk of their experiencing social and emotional problems in the long term.
Apply now: www.sollicitatieteamup.nl
Job description
You will be part of an enthusiastic team of at least four volunteers. You and your team will guide recreational activities for refugee children aged between six and 18 at a fixed time each week. Each activity has a specific theme and purpose. These activities make up a programme that helps teach children learn how to deal with difficult emotions such as anger, fear and stress.
You will also have child safeguarding responsibilities. You will learn how to recognise signs of unusual behaviour and, if necessary, refer children to specialised care and support services. You will receive comprehensive training on how to carry out these functions before you start working with children.
Your profile
You are aged 21 or older;
You have experience in either organising recreational activities for children or a relevant degree in the one of the fields of pedagogy, education, sports or physical education. Whether you have just completed your education or are still studying, we invite you to apply;
You will be available for four hours each week (travel time not included) from approximately 15.30 (the day on which the activities take place differs per location);
You are willing to commit to TeamUp for an extended period of time - this is a crucial requirement because stability is essential for this vulnerable group of children;
You can undertake a two-day training course and after having been active for three months, the two-day follow-up training sessions. You will be trained in facilitating the activities and working with the specific target group.
What do we offer?
The opportunity to gain experience in working with children and develop your skills;
A position in an international, enthusiastic and professional team;
First Aid training;
Counselling and stress management sessions;
Events to exchange experiences with other volunteers;
Voluntary allowance.

TeamUp is active in over 30 asylum reception centres across the Netherlands. We're looking for volunteers for all locations - Almelo, Almere, Amsterdam, Apeldoorn, Arnhem, Assen, Baexem, Balk, Budel, Burgum, Dronten, Echt, Emmen, Gilze, Grave, Hardenberg, Harderwijk, Heerhugowaard, Hengelo, Hoogeveen, Katwijk, Leersum, Luttelgeest, Maastricht, Middelburg, Nijmegen, Overloon, Rijswijk, Rotterdam, Sneek, Ter Apel, Tilburg, Winterswijk, Zutphen en Zweeloo. Which means there's a TeamUp location near you!
Apply now
Interested? Inspired by the job description? Want to be part of a skilled and motivated team? Upload your CV to www.sollicitatieteamup.nl
The safety of children is essential to War Child. War Child does not tolerate or accept any form of abuse. This subject is addressed in our recruitment and selection procedures.
TeamUp is supported by the Asylum, Migration and Integration Fund (AMIF).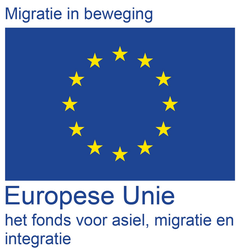 the Asylum, Migration and Integration Fund (AMIF)
The European Commission's Asylum, Migration and Integration Fund promotes the efficient management of migration flows and the implementation, strengthening and development of a common approach to asylum and immigration in the European Union.
naar website